Instructions Page

Filename: instructionsforauthor.htm


Save a lot of time!
Read this "Instructions Page" before you start!
This page has
instructions for the author
. It tells you how to modify the original template and maintain a web site using Trellix Web from
Trellix Corporation
. The sections are:

What type of web site does this create?


How to start

This is a template. What that means is that you are starting from a Trellix file that has pages created, a design, etc., and then you save it under your own filename. You then edit it and change it to make it exactly as you wish it to be. You can delete text, add text and pictures, change the layouts, or anything else you want. These instructions should help you when you first start using this template, and should be especially helpful to new users of Trellix Web.
Please read these instructions at least once! Ten minutes of reading and you can then maintain your web site for months or more without needing to learn any more. If you don't read this, you may end up wasting a lot of time doing things that Trellix Web will do for you automatically.
It is assumed that you know a little bit about creating a web site with Trellix Web. At least go through the "Guided Tour" (on the Help menu it is listed as "Guided Tour").
Please note: This template is different than the normal templates and designs that come with Trellix Web. It has special Page Layouts that have text and links that will be automatically put on your pages specific to this type of web site. This template is not compatible with the regular designs that come with Trellix Web. This means if you use the "Format / Change Document Design..." command you will probably not be happy with the results since a lot of navigation and text formatting will change or disappear. You may, though, use the "Format / Edit Page Layouts..." commands to make changes yourself.
You can print all these instructions if you want (use the "File / Print" command).
What type of web site does this create?

This template is for creating a simple journal or log. There are two main types of pages: Sequence pages and Stand alone pages. Sequence pages hold the ongoing log. They are automatically linked in a list. Stand alone pages hold longer essays or material that is timeless. Here is the map (which you should see at the top of the screen when editing in Trellix Web) to show you the organization:

The map

The home page has a link to the latest log entry, an introduction to the web site, a list of all the log pages, and whatever else you want to add. The log pages ("The Postings") are in reverse chronological order. To add something new, you just type it onto the first page on the postings sequence. When it "fills up" (you determine what that means), you just create another one (menu item "Insert / Page") and then, in the map, drag the new page onto the sequence line at the beginning on the left (the others will move to the right) and fill it out (see below for how to fill it out). New pages are Sequence pages by default. (The map picture above shows a second postings page already added.)
This method of linking from a home page to a "current page" lets people link to what you write and the links will still be current when it becomes "old news". A link to your home page will always let someone get to the most recent of what you have to say in one click. If you want, you can also change what's on the home page, such as give a short form of what you have on the current page. You could also have the latest stuff on the home page and cut and paste it to a "most recent page" (renaming the link from "latest postings" to something else, perhaps). It's up to you how you want it to work. This template starts with the way that requires the least amount of work on your part.
If you have something to write that is not in the time sequence, such as the "About" page, you can make a Stand alone page. Just create a new page and change its layout to "Stand alone page" with the "Format / Apply Page Layout" command. You should then manually link to the new page. Stand alone pages are automatically linked back to the home page. You can manually link from them to any other pages. Other examples of stand alone pages are "Frequently Asked Questions" (FAQ) pages, how to contact you, your feelings on a particular subject, and general background material.
Here are some pictures:
Home page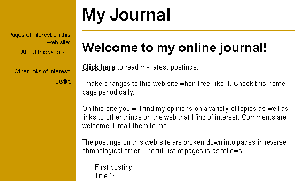 Screen capture of the home page

You can customize this page anyway you like. You should change the name, make a tag line, etc. The link to the "latest postings" is done with the command "Link / Create Navigational Link... / Link To: / First child page in map". The list of links to the postings pages was created with the "Link / Create List from / Another Sequence..." command showing just the title of each page (initially there is only one page in the list, of course). You could replace it with a list that has the Summary field, too, instead, if the Title isn't descriptive enough.

Closeup of links in left margin

The left margin is a place you can put commonly needed links. Don't put too many lines of text, since the left margin, like all the left margins in this design, does not scroll along with the page body. ("Not scrolling" is a setting on the left margin Page Area General Property tab.)
You may want to add a logo, photo, or design to the home page to personalize it. Some ideas: Put a small photo in the upper left corner. Use a combination of table cells to make a little design. Use an interesting tag line or name as well as color of text. For example:

| | | |
| --- | --- | --- |
| | | |
| | The Daily Biscuit | |
| | | |

Sequence pages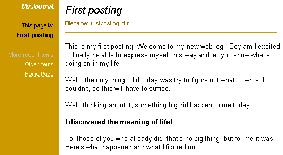 Screen capture of a sequence page

These are pages that go one after another on the "The Postings" sequence line. They automatically get links to pages next the them on the sequence line: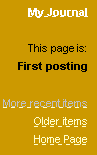 Closeup of links in left margin

The pages on the sequence line should be ordered with the most recent on the left and oldest on the right.
Stand alone pages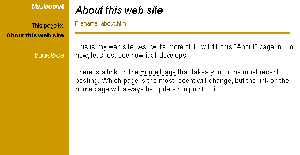 Screen capture of a stand alone page

Here's the left margin. You can add other links or text to the left margin under the "Home Page" link. Don't put too many lines of text, since the left margin, like all the left margins in this design, does not scroll along with the page body.

Closeup of left margin

Text Styles

To make your job easier, a few text styles have been defined. You can set the style of a paragraph by moving the typing cursor to anywhere in the paragraph and choosing a style from the Style Chooser Drop-down in the Format Toolbar: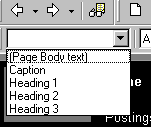 Style chooser dropped down

The styles are:

(Page Body text): The default for the region in which you are typing. 10 point Arial in the body of most pages.

Caption: Indented 0.25", 8 pt Arial, spacing after 6 pt., in a color. Used after pictures, like on this page.

Heading 1, 2, 3: Different amounts of bold and larger fonts in the different color. Spacing after as appropriate.
The "spacing after" means you don't have to add a blank line between paragraphs with this style and the next. An appropriate amount of space is automatically added.
You can always override the style settings, just like in a word processor.
More information

Use the Help that comes with Trellix to find out about all the features. You can search on many topics. It is very extensive and useful. If that doesn't work, go to the on-line Technical Support on the Web. Everything is available from the Help menu.
How to start

1) Change the name of the home page by double clicking in "My Journal". Make it whatever you want to call your site.
2) Edit the rest of the page. At least change the copyright to your name or remove it. Link the "Email them to me" to your address with "Link / Create Link to URL or File... / Link To: / Mail To:".
3) Click on "Click here" to edit the First posting page.
4) If you want, change the name (by double-clicking in the field with the word "First posting") to something else (such as "Week of December 6, 1999").
5) Change the filename if you want by double-clicking in the filename field below the page name. (If it says "--Type Short Title Here--" you need only click once.) This sets the "short title" page property that sets the filename for the page on the web site. Don't use any special characters or spaces. Examples of filenames are "part2", "part3", "starting19991203", "faq", and "baseballessay". The name must be unique within the web site. The ".htm" is added automatically. The home page will be named "default.htm" or "index.htm" automatically. Pages without a Short Title property are given a filename with the letters "ID" and a unique number. It is bad form to change the filename name once you publish a page and others read it. If you do, any links they made to the page will be broken.
6) Add some content. You can type it in. You can insert images ("Insert / Image/Clipart..."). You can change fonts (like using bold or italics). You can use tables for layout. You can copy and paste from your word processor. You can link to other pages on the web. You can insert Web Gems for maps, weather, or recommended books and other items. It's up to you.
7) Change the "About this web site" page if you want.
8) Publish it.
9) Tell your friends.
10) Update it as you need to.
11) To add a new sequence page, use "Insert / Page", drag the page in the map to the beginning (left side) of the sequence line next to "The Postings", and fill it out just like the "First posting" page, giving it a new title and filename (i.e., go back to step 4 and continue from there).
12) To add a new stand alone page, use "Insert / Page", drag the page in the map to an area not on the sequence line, and fill it out just like the "First posting" page, giving it a new title and filename (i.e., go back to step 4 and continue from there). You will need to link to the page from somewhere, such as from within a "postings" page or on the home page, just like the "About" page is linked.
13) If you're proud of your web site, and want others to know about it, let us know about it at Trellix Corporation. We'll make a list of them. Send mail to
service@trellix.com
.